---
OUR ANNUAL EPIC BLACK FRIDAY SALE!!
Hurry only 24 hours for you to catch these amazing deals!!!
SHOP Black Friday!
---
'TIS THE SEASON TO SPREAD GEMS AND LOVE!
Check out our shimmery pieces perfect to gift your loved ones or yourself this season!!
SHOP GIFTS!
---
MOM specialty initial necklace
---
BEAUTIFUL PEOPLE WEAR VICTORIESQUE!!
Take your jewellery to the next level!
Accessorise your fine dining or brunch outfits!
Experience unmatched quality pieces!
Shop Gems!
---
Limited Edition Dainty Earrings and Earcuffs!
Get the exclusive look with these stackable dainty earrings! Whether you have piercings or not get the luxe look!
SHOP LUXE!
---
Gold Filled Pieces
We chose gold filled materials to signify our never ending gratitude to everyone who has ever supported this small business. We hope you enjoy these pieces as much as we loved making them for you!
Love,
Victoriesque
SHOP
---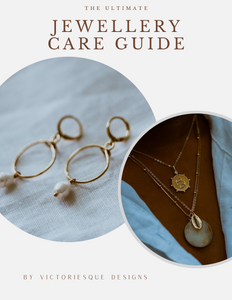 The Ultimate Jewellery Care Guide
---
Island Chic Inspired Pieces
Victoriesque Designs officially launched in January of 2019 at the annual Girlfriend's Expo event. After a positive reception at the event it's Founder Sherlai Stevenson desired to take the business seriously after the requests and orders continued to roll in. Sherlai, who is also a MSc Psychology Graduate has had the passion for making jewellery from the age of 13 when she would make all of her friends' Christmas and Birthday gifts from scratch. Fast forward to present day the business has grown in many ways including developing a website and receiving orders Regionally and Internationally. Victoriesque Designs is committed in bringing only the highest quality of metals and materials using only genuine gemstones and either Sterling silver, 24k Gold Plated or 18k Gold Filled pieces. Victoriesque's mission is to grow it's close knit community of Vixens and to ensure their experience is nothing short of novelty and affordable luxury.
---
This section doesn't currently include any content. Add content to this section using the sidebar.